Sade Bamimore (she/her), Senior Associate (Consultant II), Corporate Sustainability & Climate Change at ERM, has recently published her book, Reimagining Systems for a Sustainable Future. Here she discusses what prompted her to become an author, her interest in sustainability and how we can all be sustainability leaders.
My interest in sustainability developed at the age of 19 after taking an Introduction to Environmental Science class in college. Through class projects that enabled me to learn more about my carbon footprint, I began to understand how my actions have a systemic impact on the environment and on people around the world. After finishing this Environmental Science class, my passion for sustainability was further solidified through two semesters abroad in Copenhagen, Costa Rica, and Peru. In particular, while in Copenhagen, I learned about Chief Sustainability Officers for the first time. After learning the impact that they have on their organizations, I was instantly inspired to pursue this role as my dream job.
After graduating from college, I joined a book writing program called The Creator Institute to begin writing a book about Chief Sustainability Officers and other sustainability leaders who have pioneered the sustainability profession. I began writing my book in June 2019 and as part of my research, I interviewed over 60 sustainability leaders across sectors to understand how they define their roles and to see what their visions are for their roles in the future.
In the midst of my journey writing the book, I began my role as a Sustainability Strategy & Disclosure Consultant at ERM in September 2020. As a Sustainability Consultant, I have been equipped with the tools to implement sustainability on a tactical level to help drive sustainable systems in companies. Working at ERM has provided me with the opportunity to work with sustainability leaders from the world's leading companies, giving me greater insight into what their roles look like on a daily basis.
Writing a book while working full-time was one of my most challenging experiences. Working eight hours a day and then pivoting to work on my book for several more hours into the night — and sometimes into the early morning — every day of the week, and then continuing to work on my book on the weekends, was mentally and physically exhausting. Though the three years leading up to my book's publication were extremely challenging, the reward of Reimagining Systems for a Sustainable Future being published in January 2022 outweighs the difficult times for me.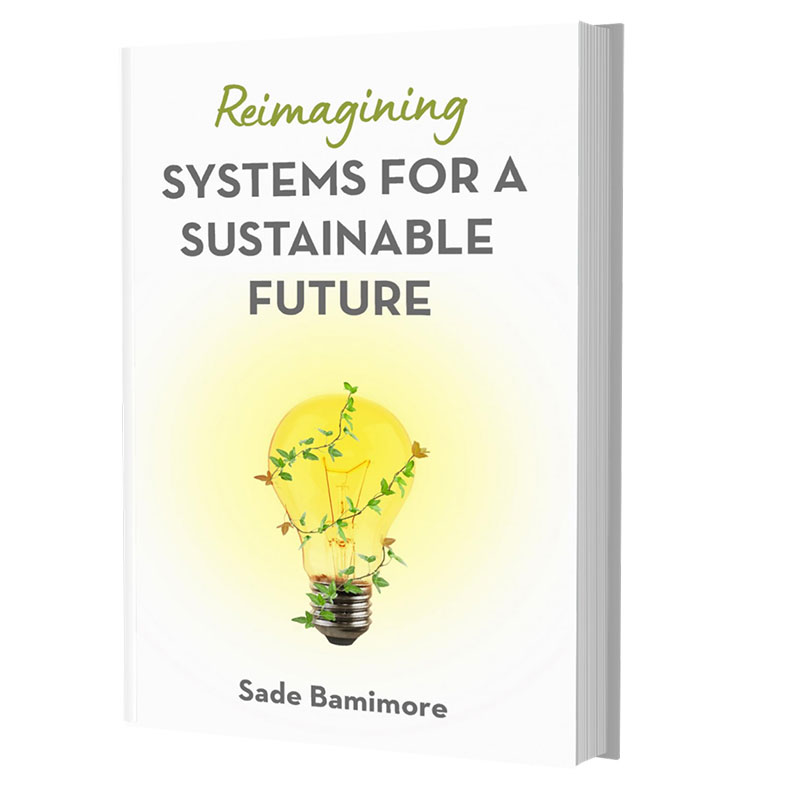 ERM has shown support for my book in a number of ways. Once my book was published by New Degree Press, ERM promoted my book throughout the company and offered to reimburse colleagues in my business unit who purchased my book. Twice a year, ERM opens an application window for its Global Technical Paper and Publication Award, a company-wide award that recognizes thought leadership and expertise in alignment with ERM's global strategy. After I submitted an application, ERM selected me to receive a Global Technical Paper and Publication Award for promoting sustainability thought leadership through the publication of my book.
Being a published author is both exciting and daunting. I have a real sense of relief and peace that something I have been working towards for so long has been accomplished. Publishing is also an extremely vulnerable experience, since I do not know how the book is going to be perceived by those who read it. But the thought that anyone can access the knowledge shared in my book is incredibly rewarding to me. Achieving the goal of publishing my book and sharing knowledge on sustainability leadership has been well worth the challenges.
My hope is that in reading Reimagining Systems for a Sustainable Future, readers will gain a deeper awareness of sustainability leadership and discover how their own ecological self can propel them toward action, servant leadership, and justice. I want people to see this book as an opportunity to engage with systems thinking, escape the bystander effect, pursue equity and justice, and learn alongside sustainability leaders about the importance of elevating sustainability. My book includes various insights on what people can do to be sustainability leaders in their own right such as being engaging systems thinkers, change management specialists, and influencers without authority.
---
Sade Bamimore (she/her) is a Senior Associate (Consultant II), Corporate Sustainability & Climate Change at ERM. Based out of New York City, Sade has worked with ERM since September 2020. In 2022, she was recognized as a GreenBiz Emerging Leader by GreenBiz Group.