EQT Corporation is the largest producer of natural gas in the United States, with an emphasis in the Appalachian Basin. With production operations in Pennsylvania, West Virginia and Ohio, EQT is a technology-driven leader in advanced horizontal drilling and is committed to working safely and responsibly to minimize impacts to the environment.
As part of its continued evolution through strategic growth, collaboration and advanced technological capabilities, EQT searched for a partner to help identify the most important sustainability topics for its many stakeholder groups. Based on our expertise in sustainability strategy and disclosure services, EQT engaged BrownFlynn, an ERM Group company, in 2017 and has continued to use our services since.
BrownFlynn made the process easy and the results simple to understand—and, in turn, they spent ample time working with us to determine the correct path forward with the information gleaned from the assessment. The expertise and professionalism of the BrownFlynn team were invaluable to our Company and we look forward to working with them again.
Our Approach
Our team leveraged the topics prioritized in the 2017 materiality assessment to write and annually update EQT's 2017–2019 Corporate Social Responsibility (CSR) Reports in accordance with evolving Global Reporting Initiative (GRI) guidelines. This included customized design and development of a reporting microsite to improve navigation and readability.
In 2019, we further strengthened the content and rigor of EQT's public ESG disclosures by including relevant disclosures from the Sustainability Accounting Standards Board (SASB) and Disclosing the Facts—a transparency framework for hydraulic fracturing operations.
Since publishing EQT's 2019 CSR, ERM completed another strategic materiality assessment, powered by Datamaran®—an AI-driven data platform—to ensure EQT is capturing the most relevant ESG topics in its strategy and reporting going forward. Upon completing the assessment in spring 2020, ERM's support includes creation of EQT's 2020 report.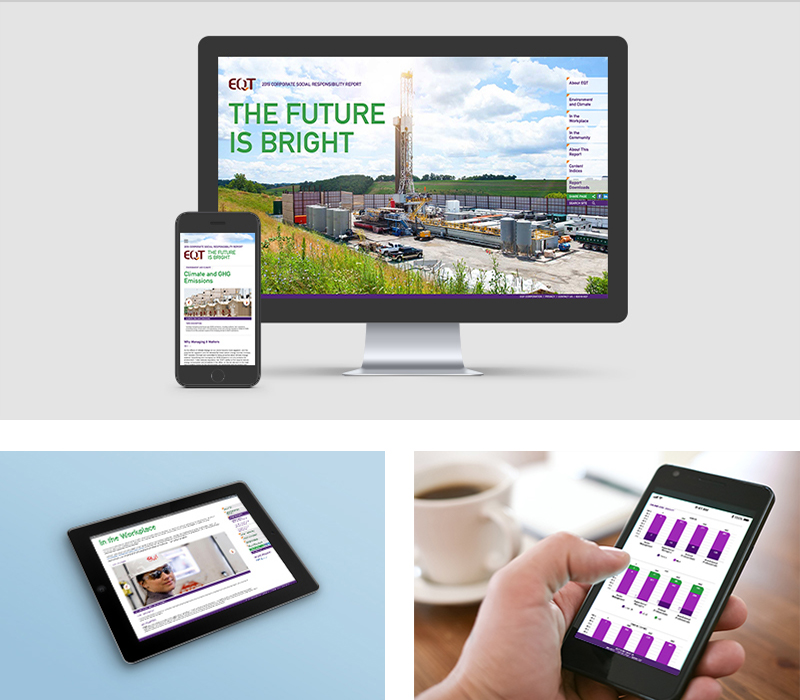 Benefits and Value
ERM's Sustainability Strategy and Disclosure team helps executives in any industry understand the stakeholder expectations and strategic relevance of managing their environmental, social and governance impacts. We help clients disclose business value that is difficult to quantify and adapt their centralized business practices or business models to create long-term value. Paired with seamless design services, we are a one-stop-shop for impactful sustainability reporting.