ERM, the world's largest pure play sustainability consultancy, has published its latest assessment of the ESG ratings landscape. Rate the Raters, developed by ERM's SustainAbility Institute, finds that, while demand is surging, raters face rising concerns from corporates and investors around data accuracy and the overall quality and usefulness of ESG ratings.
More than half of surveyed companies report that they engage with at least six ESG ratings providers. CDP was ranked by corporate survey respondents as the best ESG rater for both quality and usefulness. Investors also rated CDP as the top ESG rating provider for usefulness but perceive ISS-ESG to be the leader on quality. In addition to CDP and ISS-ESG, other ESG ratings most frequently cited by corporates and investors for quality and usefulness are Sustainalytics, MSCI, EcoVadis, and Bloomberg.
Investor demand is the primary driver of engagement with ESG raters, with 57% of companies citing it as their top motivation, followed by performance assessment which was cited by 21%. This reflects the growing integration of ESG ratings and data into investment strategies. Forty-three percent of investor respondents ranked requirements by their firms to integrate ESG ratings and data into their investment practices as a top reason for using ESG ratings providers, compared with just 12% in 2018/19.
However, the report finds that over a quarter (29%) of corporates have low to very low trust that ESG ratings accurately reflect ESG performance, and half (52%) have only moderate trust. Overall corporate perceptions of ESG raters' quality and usefulness have dropped since 2018/19.
Investors surveyed demonstrated higher levels of trust, with 59% reporting moderate trust and 38% reporting high to very high trust in ESG ratings providers. However, the survey also reveals a notable trend for investors to develop in-house ESG indicators, metrics, and ratings themselves, reflecting the efforts investors have made in recent years to build their own ESG expertise.
Across both investors and companies, around half see "greater consistency and comparability across ratings methodologies" and "improved quality and disclosure of methodology" as key issues for ESG raters to fix in order to maintain trust.
ERM's report is published against the backdrop of an increasingly dynamic sustainable investing environment. ESG funds are growing rapidly, and the ESG performance of companies is being intensely scrutinized. Companies also face increasing ESG disclosure requirements, with regulators in the E.U., the U.S., and other regions finalizing far-reaching new rules.
Tom Reichert, ERM Group CEO, said: "We know first-hand how crucial ESG ratings are to spurring action on the sustainability agenda and ensuring the highest performing organizations get the recognition and financing they need.
"However our survey shows that the ESG ratings industry is at a crossroads. How raters respond to the pressures they face will determine what the field looks like in the decade to come.
"It is in everyone's interests to ensure that ESG ratings are transparent, robust, and trusted. We look forward to sharing this report to stimulate new discussions around how we can work together to shape a sustainable investment environment that meets the needs of companies, investors, and raters."
---
Note to editors
Survey responses on quality and usefulness of ESG raters*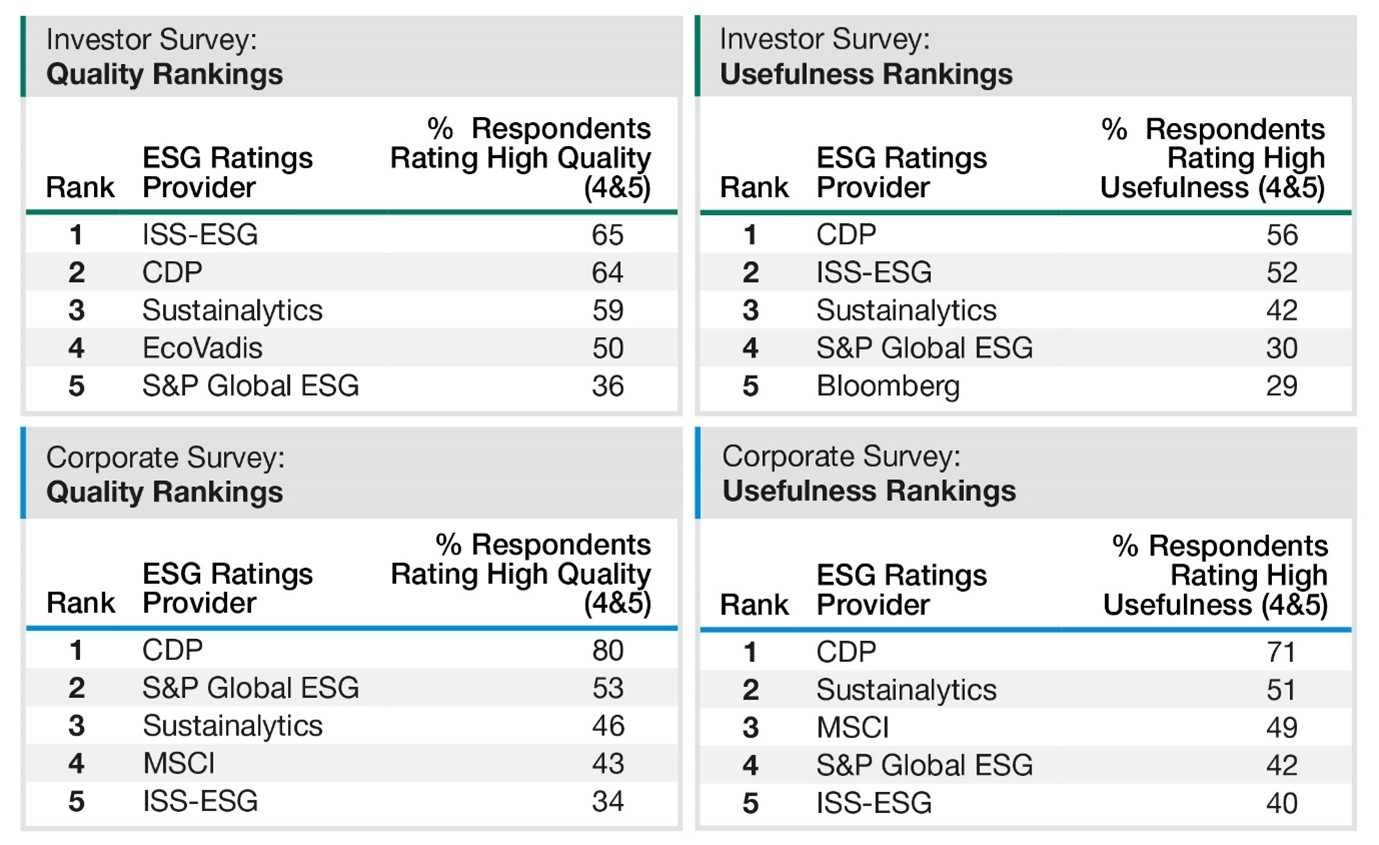 *Please see report for full rankings
Survey background and methodology
Rate the Raters was first launched in 2010. Through a series of reports, the program was designed to better understand the ESG ratings landscape and provide perspectives to help companies, investors, and other stakeholders make sense of and derive more value from ESG ratings.
The 2022 survey was developed using the survey platform Alchemer and was distributed to over 1,400 corporate sustainability professionals and 450 investment professionals across 20 industries, six asset classes, and 29 countries. Survey links were distributed by conduits including email lists, social media, professional networks, and two 2022 Rate the Raters blog publications. Data was collected between 21 September and 11 November 2022, resulting in responses from 104 corporate and 33 investor respondents.
About The SustainAbility Institute
The SustainAbility Institute is ERM's primary platform for thought leadership on sustainability.
The purpose of the Institute is to define, accelerate and scale sustainability performance by developing actionable insights for business. The Institute identifies innovative solutions to global sustainability challenges built on ERM's experience, expertise and commitment to transformational change.
The Institute collaborates with the world's leading organizations in ways that operationalize sustainability, bringing together sustainability practitioners with common issues and ambitions to share challenges, discuss current trends and exchange information on emerging best practices.
About ERM
ERM is the business of sustainability.
As the largest global pure play sustainability consultancy, ERM partners with the world's leading organizations, creating innovative solutions to sustainability challenges and unlocking commercial opportunities that meet the needs of today while preserving opportunities for future generations.
ERM's diverse team of 7,500+ world-class experts in over 170 offices across 39 countries supports clients across the breadth of their organizations to operationalize sustainability. Through ERM's deep technical expertise, clients are well-positioned to address their environmental, health, safety, risk, and social issues. ERM calls this capability its "boots to boardroom" approach - a comprehensive service model that allows ERM to develop strategic and technical solutions that advance objectives on the ground or at the executive level. Learn more