Leadership is sometimes called the delicate balance between hope and reality.
As business and government leaders convene in Glasgow for the COP26 meeting, maintaining this balance has perhaps never been so precarious.
The hope is that the meeting will set clear, ambitious and binding policies that will drive action towards a net zero world in line with a 1.5C pathway—and that all countries ratchet up their emissions reduction commitments, reinforcing their intent and sending a clear message that there is no turning back.
As part of our ongoing program of thought leadership focused on climate action, we recently asked sustainability experts around the world about what they hope to see from the meeting. Their top three most desired outcomes? Agreement on how to build nature-based solutions into the Paris implementation strategy; agreement on countries' emissions reduction pledges for the next five years; and agreement on carbon market mechanisms (see Figure 1). Putting nature at the centre of climate solutions, driving near-term action to accelerate impact on net zero targets and strengthening the incentives to take action are all areas ERM hopes to see advance at COP26.
Figure 1: What are the top two outcomes you would like to see from COP26? (% of experts)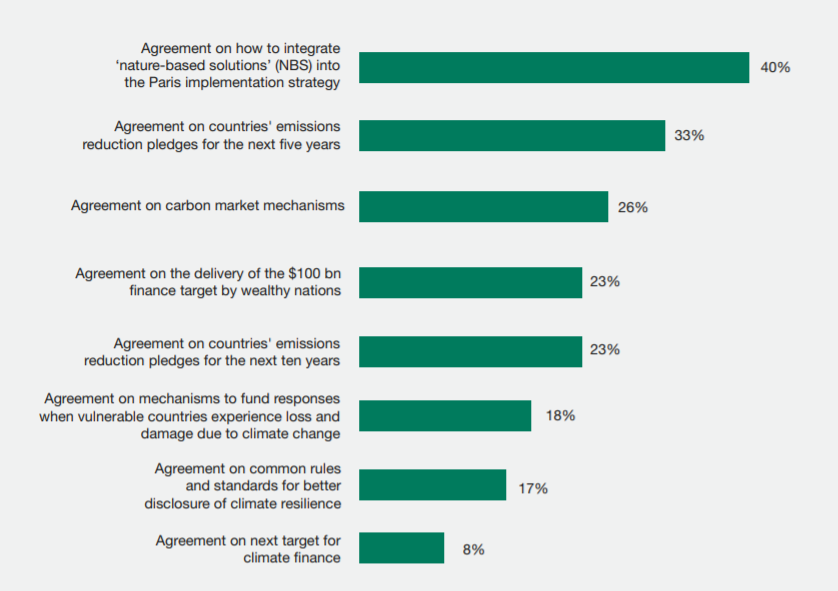 But the reality is that, despite the significant progress many countries and organizations have made in recent years, we need to accelerate action. Three-quarters (74%) of the experts we surveyed believe there has been minimal progress on advancing the Paris Agreement goals. The thousands of climate protestors due to congregate on Glasgow also attest to the frustration that many people feel about the ability of policymakers and businesses to deliver lasting change quickly. At ERM, ahead of COP26, we joined 600 other leading businesses as part of the We Mean Business Coalition calling on G20 leaders to provide clear, ambitious policies to halve emissions by 2030 in line with the 1.5ºC target. There is clearly broad-based agreement that we need to do more and we need to do it faster.
That's why ERM has made the transition to a low-carbon economy one of our central growth drivers, as well as ensuring it is integral to our business operations. Last year we delivered more than 400 net zero and climate risk projects to clients, who have a collective market value of more than US$18 trillion. We advised on over 1500 renewable energy projects, totaling 60 GW of capacity in more than 100 countries—that's the equivalent of 22,000 wind turbines. ERM was also one of the first professional services firms to have a validated science-based target (SBT) to reduce our GHG emissions in line with climate science; we have recently raised our ambition with a 1.5ºC aligned SBT to support our commitment to reach Net Zero across our operations by 2025.
Through our investments and actions, we are scaling impact that can help shift the needle on businesses' response to climate change. Because ultimately impact is what we need. No doubt there will be a lot of talking over the next two weeks. But it's all for nothing if it doesn't translate into tangible, concrete delivery on the ground. As leaders we must help people draw hope from the reality, drawing inspiration from the knowledge that we need to be more urgent to make a real difference.
So while I look forward to the forthcoming meetings and discussions with clients, partners, policymakers and NGOs—as well as speaking about the roles of both hydrogen and finance in transitioning to a low-carbon economy—I'll also be restless. There is much work to be done.
And the clock is ticking.