On 7 October 2023, Governor Newsom signed two new climate bills into law that will affect more companies and require broader disclosure than the Securities and Exchange Commission's pending Climate Disclosure rule. CA Senate Bills (SB) 253 and 261 apply to any public or private company doing business in CA that meet certain annual revenue thresholds (more below) with penalties for compliance violations.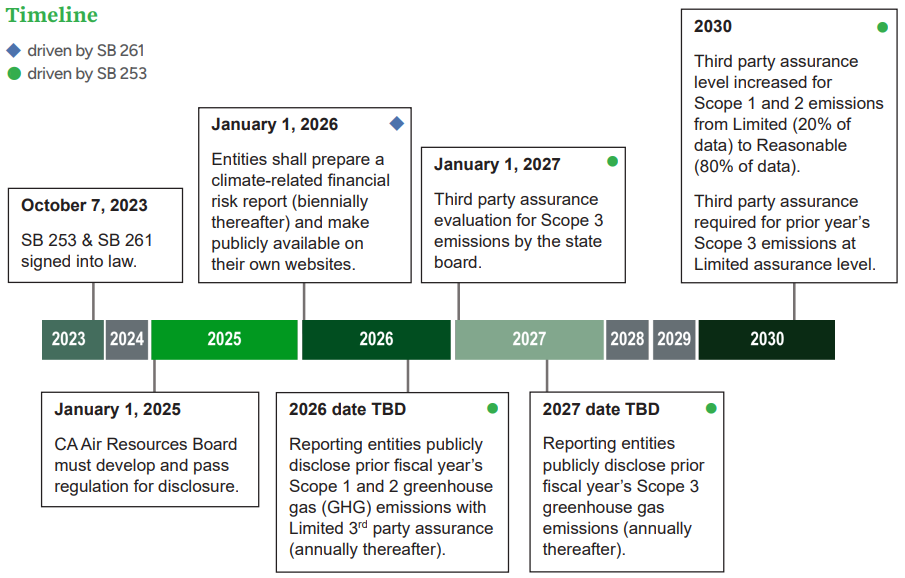 SB 253 Climate Corporate Data Accountability Act will affect public and private entities operating in CA that earn >$1B annual revenue.

SB 253 Penalties for nonfiling, late filing, or other failures can reach $500,000 per reporting year. However, for Scope 3 in reporting years 2027 through 2030, only nonfiling penalties will be assessed and all Scope 3 misstatement penalties will be waived if disclosures were made with reasonable basis and in good faith.
These are only the stipulated financial penalties for non-compliance and do not account for the reputational nor the business continuity risks of inaction, which could be several multipliers more than the penalties itself.
SB 261: Climate-Related Financial Risk Act applies to public or private entities1 that operate in CA and earn >$500M annual revenue.
SB 261 applicability revenue threshold is lower than SB 253, meaning that some entities may only be required to disclose climate-related financial risk. However, ERM and the Task Force on Climate-related Financial Disclosures (TCFD) recommend calculating GHG emissions prior to evaluating climate-related financial risk (i.e., entities should understand their own climate impact to wholly evaluate risk associated with it).
How ERM can help you:
As a founding member of the World Business Council for Sustainable Development, ERM is familiar with the globally recognized accounting and reporting standard required for use by SB 253. Over the past 12 months, ERM has partnered with over a thousand companies to advance their decarbonization journeys, from compiling inventories to setting targets to decarbonizing products/assets to disclosing results.
In relation to SB 261, ERM was the sole consulting firm engaged by the G20 Financial Stability Board Task Force on Climate Related Financial Disclosure. ERM has delivered over 250 TCFD climate-related risk analyses to clients in virtually every industry.

SB 253 and SB 261 have brought carbon and climate-related financial risk disclosures back to the forefront. ERM is expertly suited to review your company's documentation, governance, process controls, data and technical capacity of personnel generating climate data. ERM can assess readiness and work with your team in compiling disclosures that are vetted and audit-ready.
---
Key contacts
Colin McGroarty, PE
Partner, Climate Change
Colin.McGroarty@erm.com

David Weaver
Partner, Engineer, North America
David.Weaver@erm.com