As a leading global provider of environmental consulting services, we are acutely aware of our responsibility to reduce our environmental footprint through the effective management of our offices and assets, business activities and client project work.
Environment is a key focus area within the UN Global Compact and, as a signatory, we strive to embrace its core values and promote these values within our sphere of influence.
We support a precautionary approach to environmental challenges and undertake initiatives to promote greater environmental responsibility and encourage the development of environmentally responsible technologies and products. Principle 15 of the Rio Declaration 1992 states that: "in order to protect the environment, the precautionary approach shall be widely applied by States according to their capabilities. Where there are threats of serious or irreversible damage, lack of full scientific certainty shall be not used as a reason for postponing cost-effective measures to prevent environmental degradation."
We recognize the benefits of setting greenhouse gas emission reduction targets in line with climate science.
Following the Paris Agreement at COP21, there is momentum for business to adopt more ambitious targets to keep global temperature increase below 2°C compared to pre-industrial temperatures.
We have been looking at industry-based methods and approaches for setting medium- and long-term carbon targets that are appropriate for our business and growth ambitions. We concluded that targets based on science that specify how much and how quickly we need to reduce our greenhouse gas emissions to support the Paris Agreement are the most appropriate. Given the nature of our business, which involves serving our clients across the world, we want to set targets with practical plans to drive our performance.
In FY17, we established a project team of internal experts to apply best practice methodologies to understand the top opportunities for setting our own ambitious, long-term targets. Our goal is to set 5-year targets for greenhouse gas emissions by the end of FY18.
Green buildings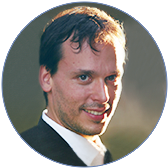 Stefano Azzolini, Partner – São Paulo, Brazil
We are progressively relocating our offices to more resource-efficient buildings and to areas with improved public transport links to help reduce the commuting footprint of our employees.
A number of our offices have been recognized by building councils and local authorities for their reduced environmental footprints.
The new ERM office in Mumbai is close to public transport and airports, 50 percent smaller than previous office space, and uses natural sunlight and LED lighting.
The Toronto Office relocated to a LEED Canada Gold Certified building, located in the heart of downtown's pedestrian walkway linking the public transit system. The space employs enhanced lighting and HVAC controls, vinyl composition tile with recycled material content, and re-used carpeting, among other features.
ERM's offices in Dordrecht and Antwerp, the Netherlands, were renovated to use an open space office environment providing flexible work environments. The Dordrecht office used sustainable timber for the central space. The Antwerp office worked with Nearly New Office Facilities, which used material from old office furniture to make new furniture designed to fit with the open office concept.
Our office in São Paulo, Brazil, relocated to a LEED Gold Certified building.
ERM's São Paulo office was specifically designed to showcase our commitment to sustainability, which is evident the moment you walk into our new space. Our goal was to have visible, tangible and measureable sustainability results and our LEED Gold certification is proof of successfully reaching that goal.

Stefano Azzolini, Partner – São Paulo, Brazil
The services we provide to clients provide many opportunities to help reduce environmental impacts and drive innovation throughout the world. Our projects relate directly to critical issues, such as climate change, waste management, natural capital, resource efficiency (water, land use and natural resources) and biodiversity – each of which is identified within the Sustainable Development Goals. ERM also provides both strategic and technical advice to clients on understanding, managing and measuring product sustainability and life cycle impacts.
While we continue to take steps toward reducing the impacts of our operations, it is clear that our work for clients forms the largest part of our sustainability footprint. Stakeholders have challenged us to undertake more effective measurement and disclose the impacts we have through our client projects. We continue to explore and refine our methodologies in this complex area of work.
---
ERM is deploying our proprietary Natural Capital Decision Analytics Tool to help clients build sustainability into their decision-making using quantitative and economic approaches. The tool is designed to meet the growing demand by companies to better quantify the business case for managing ecosystem services and natural capital. This tool can be an integral element in implementing the Natural Capital Protocol, which ERM helped develop with the World Business Council for Sustainable Development for the Natural Capital Coalition.
---
FY17 target

Develop medium- and long-term carbon targets

Result

Ongoing work by team of ERM experts to develop carbon targets based on science