ERM helps governments, businesses, industry bodies and other leading organizations to address complex sustainability issues by providing technical insights, an understanding of societal expectations, and framing that with commercial acumen to provide business value. We raise awareness of sustainability trends and topics that educate, influence and sometimes challenge a company or industry.
Contributing to global sustainability challenges
As a responsible corporate citizen, we encourage our consultants to share the lessons learned and insights gained from their work on more than 20,000 projects annually. In particular, we focus our thought leadership efforts where our technical and professional skills can have the greatest positive impact, and contribute to achieving the SDGs.
The SDGs can be realized only with a strong commitment to global partnership and cooperation. ERM works with a range of organizations with a common purpose to shape a more sustainable future.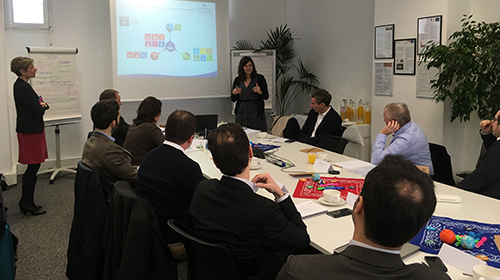 HIGHLIGHT:
ERM thought leadership around the world
In FY18, our consultants published thought leadership papers, played an active role in professional associations, and delivered hundreds of presentations at conferences around the world. These include Bloomberg Sustainable Business Summit Series, ERM client roundtables on Integrating SDGs into your business strategy, and a joint techUK and ERM conference on what the SDGs mean for the tech sector.
Bloomberg Sustainable Business Summits
Taking a forward-oriented look, Bloomberg Sustainable Business Summits examine how companies are innovating and adopting practices that prioritize sustainable value. The Bloomberg Sustainable Business Summits bring thought-provoking sustainable business and sustainable investing conversations to key decision makers and influencers across the globe. The summits were streamed to subscribers of the 25,000+ Bloomberg Terminals.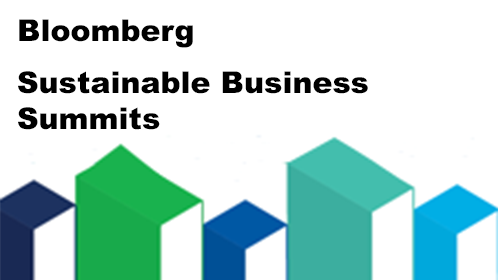 Highlight:
ERM partners with Bloomberg's 2017 Sustainable Business Summits in New York and London
ERM was proud to sponsor the 2017 Sustainable Business Summit Series in New York and London. Keryn James, ERM Group CEO, outlined in her opening remarks the "tipping point" we have reached whereby we are seeing fundamental change in the relationship between business and sustainability.
In a panel session, James Stacey, an ERM Partner and co-author of the Task Force on Climate-related Financial Disclosure (TCFD) technical supplement on scenario analysis, defined how businesses can benefit from linking environmental and social risks and opportunities to future business and financial planning.
Partnering with Bloomberg's Summit Series reflects our commitment to shaping a sustainable future with the world's leading organizations.
Royal Geographical Society (RGS)
RGS is the United Kingdom's learned society and professional body for geography, founded in 1830. With over 16,000 members, RGS is a world leader in advancing geography and supporting its practitioners in the United Kingdom and across the world. ERM became a corporate sponsor in February 2017, and have led events such as:
Teacher training days – providing "real-life" experience and expertise, adding value to teachers and program development in areas where there are less advantaged schools with fewer resources for teachers and pupils.
Continuing professional development workshop – on GIS and spatial analysis, with further workshops planned.
ERM provides a financial contribution as well as pro bono time through the ERM Foundation and volunteer time from employees.
Highlight:
Helping to nurture the geographers of the future
More than 20 geography teachers joined a team of ERM consultants for the inaugural RGS Field Training. The training of teachers in field-based skills is one of the focus areas in ERM's role as corporate benefactor of the RGS, a relationship that will help to further the Society's work to advance the professional development of geographers and those working with geography, especially in the area of sustainability.
This was the first field training to be held as part of this partnership and drew on ERM's professional techniques and case studies that will help develop the fieldwork knowledge and skills required to support new curriculums for the exams youngsters in the United Kingdom take at 16 and 18-years-of-age. It included demonstrating simple fieldwork techniques that can be easily replicated with students; supporting the better use of local sites for geographical fieldwork; and developing and strengthening local teachers' networks in order to share experience and help raise standards (including linking experienced teachers with new entrants).
To date, 40 geography teachers have received training, including a session held at a client site where ERM shared experiences from working at the site for more than 20 years.
In addition, Linden Edgell, ERM's Global Sustainability Director, presented a lecture on the SDGs as part of the RGS London City lecture series.
UN Principles for Responsible Investment (PRI)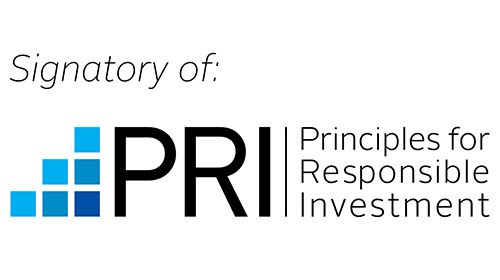 PRI is the world's leading proponent of responsible investment, with more than 1,700 signatories from over 50 countries, representing over $70 trillion in assets under management. ERM became a signatory last year, demonstrating our commitment to providing, developing and promoting services that support our clients' implementation of the six Principles regarding environmental, social and governance (ESG) issues into investment analysis and decision-making processes. We reported to PRI for the first time in 2018 on our responsible investment activities. During the past year, ERM has been actively contributing to several activities:
• Development of private equity reporting and monitoring guidelines;
• Human rights in private equity due diligence workshop, including a summary document launched during the UN Forum on Business and Human rights in November 2017; and
• Presenting with PRI the findings from above reporting and monitoring project to a private equity workshop in Hong Kong.
Highlight:
ERM chairs panels at PEI/PRI forums in Berlin and New York
ERM sponsored and participated in the PRI and Private Equity International (PEI) Responsible Investment forums in Berlin and New York, chairing key panels including climate risks and opportunities and TCFD, ESG reporting and monitoring practices and guidelines, human rights and supply chain, and ESG value enhancement case studies of private equity portfolio companies.
Taskforce on Climate-related Financial Disclosure (TCFD)
As authors of the Technical Supplement on Scenario Analysis for the TCFD, ERM is at the forefront of helping companies address climate-risk. Our approach combines our technical and business expertise together with the client's internal functions including investor relations; finance; risk; strategy; procurement; environmental, health and safety (EHS); and others.
Campbell Institute
ERM joined the Campbell Institute at the US National Safety Council in 2017, in order to be part of and contribute to one of the leading EHS centers of excellence globally. Since becoming a member, ERM has been actively involved in the Institute, sharing our expertise and experience and helping to further develop industry approaches to driving performance. ERM has partnered with the Institute in several areas over the past year related to EHS management systems and information solutions, including presenting at symposia and benchmarking sessions.
World Business Council for Sustainable Development (WBCSD)
ERM has been actively involved in WBCSD since we joined as a founding member in 1995. The WBCSD is the leading sustainability focused business organization globally with over 200 members. We have actively worked with WBCSD in many areas, facilitating a number of sessions for FReSH (food systems for the future) and presenting at the TCFD/climate financial risk session at the Annual Liaison Delegate meeting in Montreux.
At the Annual Council meeting in Mexico, ERM experts again facilitated a session on the FReSH program, served on a panel in an education session, and moderated a panel on company responses to the SDGs. ERM's Chairman John Alexander led a panel of CEOs on the business response to Climate change as well as a joint client side event with a senior Shell representative with the Mexican British Chamber of Commerce.
During the year, ERM served on the working group to develop the Reporting Exchange tool. ERM featured on a panel at the launch of the Reporting Exchange at the London Stock Exchange and was interviewed as part of WBCSD podcast on current corporate reporting trends. We also actively participated in redefining value work groups on assurance and sustainability within enterprise risk management frameworks.
ERM provided technical support to WBCSD for its recently launched guidelines for SDG Sector Roadmaps. We are now with a number of industry groups to develop sector-specific SDG roadmaps.
We also continue to be involved in WBCSD regional networks in India, Malaysia, France and the United States. Through our membership of entreprises pour l'environnement (epe), a member of the WBCSD Global Network based in France, we have joined the act4nature biodiversity initiative.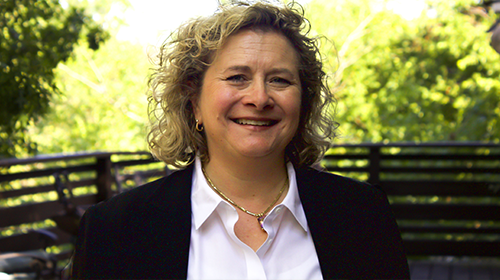 Highlight:
Kristyn Rankin appointed to the USBCSD
Kristyn Rankin, a Partner with ERM, has been appointed to the Executive Committee of the United States Business Council for Sustainable Development (USBCSD), effective July 2017.
Kristyn is based in Austin, Texas, and specializes in product stewardship and sustainable development and has a primary focus on ERM's technology, media and telecommunications clients. In her role with the USBCSD, Kristyn works with other members of the Executive Committee to develop strategic plans aimed at advancing sustainable development in the United States.
Natural Capital Coalition
Doug MacNair, Technical Director in North America, completed a secondment to the Natural Capital Coalition, working as the Technical Manager testing the pilot version of the Natural Capital Protocol Toolkit. The WBCSD developed the Toolkit, with the Natural Capital Coalition as a strategic partner and critical input from a multi-disciplinary Advisory Group. This opportunity demonstrates the value that ERM has already brought to the natural capital approach over a number of years by helping to develop the Protocol, frameworks, and quantitative tools to support natural capital management.
The Natural Capital Coalition is a global multi-stakeholder collaboration that brings together leading initiatives and organizations to harmonize approaches to natural capital. Natural capital refers to the world's natural resources, including geology, soils, air, water and all living organisms.
ERM also plays an important role in the WBCSD's recently launched Social and Human Capital Coalition and Protocol, which is a companion to the Natural Capital Coalition and Protocol.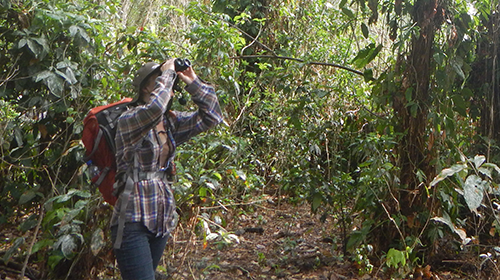 Highlight:
Advancing global standards for biodiversity offsets
ERM provides global technical leadership in protecting biodiversity as an active member in the Business and Biodiversity Offsets Program (BBOP).
Julia Tims, an ERM Technical Director based in Annapolis, Maryland, United States, is ERM's representative on BBOP. Among other activities, Julia serves on the BBOP task force participating in the preparation of the Biodiversity Supplement to the Natural Capital Protocol – a joint effort by the BBOP and the Natural Capital Coalition and other parties. Julia is also contributing to a guidance document aimed at helping businesses and financial institutions integrate natural capital and biodiversity considerations into business and financial practices.
UN Global Compact
As a signatory of the UN Global Compact, ERM commits to do business responsibly by aligning our strategies and operations with Ten Principles on human rights, labor, environment and anti-corruption; and take strategic actions to advance broader societal goals, such as the SDGs, with an emphasis on collaboration and innovation. We are a signatory of the Women's Empowerment Principles as part of our commitment.
ERM participates in an SDG working group in the UN Global Compact UK network, hosts meetings and presents on SDGs throughout the year. ERM is a member of the Modern Slavery Act group within the UK network as well.
This report serves as our Communication on Progress, an annual disclosure to stakeholders on progress made in implementing the Ten Principles of the UN Global Compact in the areas of human rights, labor, environment and anti-corruption. View our index for more detail on our progress in implementing the Ten Principles.
Global Reporting Initiative (GRI)
ERM is a GOLD Community member of GRI, the leading global standard for sustainability reporting. As a GRI Standards Pioneer, ERM is among the first to adopt the new GRI Standards. In the United States, we are a GRI-certified training partner, and offer public and private courses designed for individuals and organizations interested in gaining a deeper understanding of GRI, sustainability strategies and reporting.
We recently co-presented with the UN Global Compact on the topic of "From Mapping to Action: SDGs as a Framework for Delivering Transformative Change" at the GRI Reporters' Summit in Phoenix, Arizona, United States.
ERM CVS undertook assurance on selected sustainability information in GRI's 2016-2017 Annual Report.
KPI highlight

Innovating with clients and other leading organizations
FY18 Target
Adopt innovation approach to generate new solutions for and with clients.
Result
Our approach to innovation focuses on leveraging technological advances across our core services in response to client need. We appointed a Head of New Digital Business to spearhead our development of digital tools and services.