Sustainability means better outcomes
Created by the United Nations in 2015, the Sustainable Development Goals (SDGs) comprise 17 goals and 169 actionable targets to end poverty, fight inequality and injustice, and tackle climate change by 2030. As corporate responsibility and climate-related risk have an increasingly more direct impact on a company's financial standing and reputation, aligning core business strategies with the SDGs has the potential to offer an organization new market opportunities and to help retain or regain its license to operate.
Creating a roadmap for achieving the Sustainable Development Goals (SDGs)
Increasingly, investors realize that company risk and growth are tied to sound environmental and social practices. Contributing to the SDGs will serve to enhance returns, mitigate risk, strengthen reputation, drive innovation and much more, as documented by the Business and Sustainable Development Commission.1 Full integration of the SDGs into business strategy has the potential to contribute significant market opportunities and jobs around the world.
Many companies and a few sectors have taken the first step to mapping the SDGs against their existing activities. However, making the leap from mapping to using the SDGs to strategically innovate, grow and demonstrate progress has proven more challenging. ERM helps companies not only with mapping, but also in developing, tracking and communicating their strategy and progress in contributing to the SDGs.
Helping clients with their sustainability journey
In addition to helping business address the SDGs at a macro level, such as our sector-level roadmaps with WBCSD. We also work with companies on addressing the SDGs in a practical manner that creates business value, from strategy and goal development to measuring and reporting on progress.
For more than four decades, ERM has been working with clients around the world and in diverse industry sectors to identify and leverage opportunities to improve performance and profitability, strengthen their reputation and relationships with key stakeholders, and enhance competitive advantage by embedding sustainability across their businesses.
Within any organization, improving sustainability can cover a range of issues, from responding to megatrends such as climate change and developing new products to retiring legacy assets and operating in an efficient, compliant and responsible way.
ERM's contribution to the SDGs
ERM supports the SDGs. We contribute to them in three ways within our value chain, through:
Our consulting services with and for clients and other leading organizations;
Our operations; and
The ERM Foundation.
Focusing on the SDG targets and indicators, in keeping with evolving best practices, will be the most effective and measurable way for ERM to support the SDGs.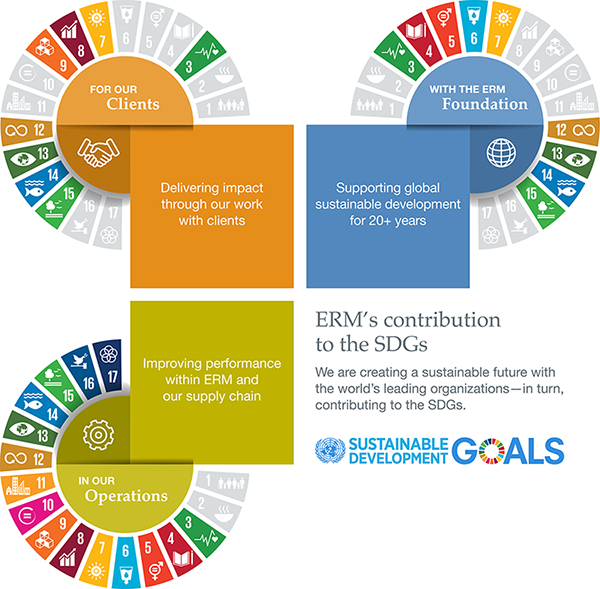 ERM's purpose is shaping a sustainable future with the world's leading organizations. ERM continues to build our global expertise as we collaborate with key international standard bodies, industry organizations and investor groups.
Although our work with clients and other leading organizations represents our most significant contribution to achieving the SDGs, ERM also supports the SDGs through our own operations and the activities of the ERM Foundation. Our colleagues asked ERM's sustainability team to share current thinking on how the world is shaping a sustainable future, and so we ran a series of employee-led webinars on the SDGs. More than 1,000 ERM employees participated in 8 webinars, presented in 3 languages by 19 ERM colleagues.