Sustainability means better insights
Companies acquire and manage significant amounts of detailed data, but this information is often stored in different server locations, software systems, directories, files and format types. As a result, extracting full business value from environmental, safety and social data collection efforts seldom happens. ERM has moved aggressively to help clients utilize big data to drive operational performance.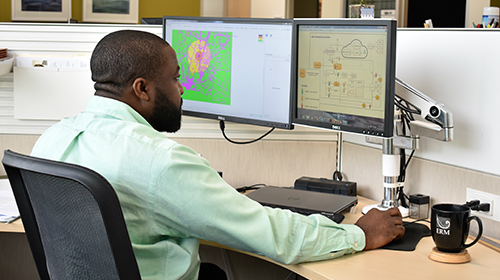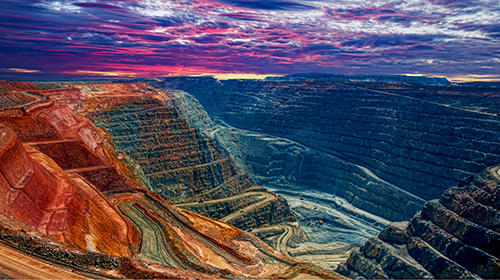 Case Study
Testing certain causal factor hypotheses for mining client
For a mining client, we have delivered a proof of concept (POC) around safety incidents that tested certain causal factor hypotheses.
Key to our work was having the ability to use modern software platforms, such as machine learning with data scraping and statistical analysis techniques, to find correlations between disparate datasets. We evaluated five years of data on weather, production rates, employee roles and length of service, and recorded incidents. Our data scientists worked alongside subject matter experts in safety, human factors and other areas.

The work completed in this POC showed some surprising findings. For example, incident rates went up as production rates went down. It also showed surprising insights into incident repeat rates as well as correlations between contractor ratios and incidents and critical risk factors and incidents. As of this writing, this POC is being considered for wider application within the organization.
We are developing tools that help provide businesses with a competitive edge through innovative approaches in addressing sustainability challenges.
Case study
Automating groundwater monitoring at coal combustion residual sites
Recently implemented US federal regulations require groundwater monitoring and reporting for coal combustion residual sites (i.e., landfill and surface impoundments). Since compliance with this rule required similar data management workflow and the same suite of analyses across all Power Sector clients and facilities, ERM's subject matter experts in statistical analysis developed a dynamic reporting tool to bring substantial automation to the analysis and reporting.
This toolkit leveraged ERM's existing data infrastructure to automatically receive field-collected data in a standardized format. It then automatically executes a decision framework and appropriate statistical analyses consistent with regulatory requirements and US Environmental Protection Agency guidance. Finally, the tool automatically exports pre-formatted tables and figures and a pre-populated written report that can be further customized by the project team.
This service was offered to four different utility clients and over 25 facilities in the United States in 2017. We estimate that this tool reduced the labor effort for statistical reporting by more than 50 percent, while simultaneously standardizing our service offerings and reducing the risk of errors. We look forward to expanding the functionality of this tool to accommodate other facilities requiring regular groundwater compliance reporting.
Technology to engage stakeholders
For businesses, digitization transforms customer expectations, product development, collaboration and organizational structures. In the public sector, it can change how citizens engage with government departments and political leaders. This represents a significant opportunity for organizations to achieve better business outcomes, from how they engage with key stakeholders to how they optimize their operations.
Case study
Analyzing public comments on Black Butte Copper Mine
One of the ways a citizen can contribute to the environmental review process for a project is by submitting a public comment. However, public comments can generate immense quantities of documents that need to be examined.
The proposed Black Butte Copper Mine, a project in Montana (US), recently received over 9,000 public scoping comments in the environmental review process. Reviewing and processing all the documents can be resource and time intensive.
This situation demanded a creative technological solution. By leveraging custom software development, we were able to extract the inputs provided and produce the output needed for analysis. We were also able to discern template form comments from unique comments using an algorithm to categorize non-variant and variant submissions. This process enabled our teams to minimize effort for an analyst from a month to about a week of time.
A tech-enabled solution like this can support large-scale citizen engagement, enabling teams to evaluate more comments in less time. In this way, ERM can offer a unique in-house opportunity to optimize resources, time and budget for our clients.
Helping technology companies manage their sustainability performance
The technology, media and telecommunications (TMT) industries face specific EHS and social challenges when entering new markets, taking on new capital projects, seeking to improve their environmental and safety performance or retiring assets. The TMT sector is worth almost $10 trillion globally. Their impact influences and shapes much of society today. ERM works with TMT companies to create business value through operational and energy cost savings, efficiency improvements, risk reduction and compliance assurance.
Case Study
Environmental compliance assessments of data center and mission-critical facilities
ERM supported a confidential client's cloud operations and infrastructure business worldwide, including environmental compliance assessments of data center facilities across Europe and Asia.
ERM developed a comprehensive environmental questionnaire and conducted on-site assessments that included pre-and post-visit discussions and focused on themes of environmental permitting, environmental management, air emissions, waste management and chemical management, among others. After the assessments were completed, ERM generated in-depth environmental compliance reports that outlined relevant regulations, onsite observations and ERM's suggested corrective actions for the client.
ERM helped the client remain proactive and competitive by enabling them to monitor and get ahead of any environmental compliance issues at their facilities and provide comprehensive corrective actions to address and remedy issues. The work contributed to the client's global cloud operations and infrastructure business and strategy ‒ a key growth area for the client.
Among the services we provide our TMT clients, ERM assists with infrastructure and operational site selection and permitting, including cultural and land resources. We provide data management and information solutions for environmental and safety management systems. We improve management of environmental safety and social issues for data centers, supply chains and reverse supply chains. We help clients identify and comply with product stewardship regulations and registrations to support product launches. To keep up with the constant retooling of infrastructure, we help TMT companies with asset retirement and redevelopment.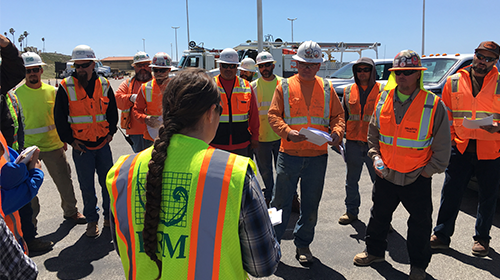 Case study
Trans-Pacific Cable Environmental Permitting and Environmental Impact Report
ERM supported the siting, environmental permitting and installation monitoring of a new telecommunications "hub" in the City of Los Angeles and a new subsea cable system connecting California (US) and Hong Kong for a private consortium. The new Internet infrastructure has capacity for four trans-Pacific fiber optic cable systems, and two systems are already underway at the Los Angeles landing site.
Tyco Electronics Subsea Communications (TE SubCom) is co-building the Pacific Light Cable Network (PLCN), a 12,800 km trans-Pacific submarine cable system that will provide the first direct undersea route between Hong Kong and Los Angeles, California with ultra-high capacity transmission. ERM is providing environmental support to TE SubCom on both sides of the Pacific, in the US and Hong Kong. PLCN, connecting Los Angeles to Hong Kong, is scheduled for installation in 2018.
ERM prepared the environmental impact report (EIR) for the Lead Agency, the City of Los Angeles, and led environmental approvals and seabed licensing in California and Hong Kong.
Leveraging technology in the delivery of services to our clients
ERM's research and insights from work with our clients demonstrate that EHS and sustainability functions are typically behind other parts of their organizations in leveraging technology and digitization to enhance their business.
Highlight
Our new global project delivery platform in a technology-enabled world
We are proud to announce the arrival of ERM's new global project delivery platform that is driving the technology enablement of our core services.
The first stage was the development of our Site Investigation and Risk Assessment (SIRA) app, which our site remediation experts developed in FY18. This tool is currently being deployed and tested at 20 client sites around the world. Global deployment is planned for mid-2018.
Every day, ERM helps clients manage their legacy asset portfolio, optimizing reserves and reducing spend while maximizing asset value during sale, acquisition and retirement. ERM's new platform enables globally consistent delivery of projects and programs across the complete life cycle – delivering faster, better and safer services to our clients.
We have a rolling program of development of enabling technologies to advance our core services. The next service to be technology-enabled is due diligence in support of Mergers and Acquisitions.
The role of technology continues to grow in ERM's approach to serving our clients. We are developing tools to improve collaboration, analytics and modeling and to simplify the collection and management of data in the field while providing clients with real-time visibility, dynamic reporting and insights into data.
Case study
Managing environmental and social risk at earliest point in mining life cycle
At the 2018 Prospectors and Developers Association of Canada (PDAC) international convention, ERM launched our Catchment Scale Exploration Tool (CSET), a proprietary approach to generate mineral exploration target areas or extension to known deposits. It is an important example of providing value to our clients through technology.
CSET examines geochemical data from springs, groundwater wells or stream water, to identify the geochemical signature of mineral deposits, and uses catchment-scale modelling to indicate a vector of where the water came from. Rather than raw geochemical anomalies, the tool uses the saturation index approach to amplify anomalies related to minerals.
CSET not only provides exploration companies with an alternative method for the identification and targeting of blind deposits. It additionally provides those companies with a catchment scale model of the potential development area, which will help companies manage their environment and social risk at the earliest point in the mining life cycle.
This offers critical, time-sensitive information on the sustainability risks, liabilities and opportunities associated with investment decisions to be collected – in one, seamless tool.
ERM's own journey in embracing data and technology
ERM recognized that our business model, like other business models on the planet, was being disrupted by the digital world around us. We committed to address it and engaged external advice, entering into a partnership with the digital advisory arm of Infosys, an India-based information technology (IT) market leader.
We created a vison for what it would look like to be the digital leader in our industry, and built a roadmap of what needed to change. As part of ERM's strategy, we appointed a Head of New Digital Business, responsible for creating, developing and implementing new ways of working with our clients.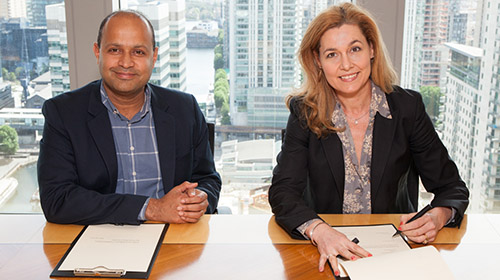 Case Study
Infosys partnership creates client value through collaboration
ERM has signed a Memorandum of Understanding (MOU) with Infosys. This is a significant step in our digital transformation journey, and one that we expect will unlock the delivery of a unique value proposition for our clients.
In signing this MOU, we have established a broader collaborative partnership that can leverage the opportunities to improve delivery through our combined strengths and services and create joint new digital offerings addressing our clients' sustainability challenges. It also supports our purpose in shaping a sustainable future with the world's leading organizations.
We have a decade's worth of experience with an amazing ecosystem of environmental management information system platform partners to help our clients' software enable their EHS programs. Expanding our ecosystem of partnerships to include Infosys will allow us to assist clients with other technology and data opportunities that have emerged in the modern digital world. Our early work with Infosys has focused on how we work at ERM and how we can use automation, analytics and – someday soon – artificial intelligence to help clients become more efficient in their data management programs, and use those data to become more effective stewards of EHS.
Utilizing our own infrastructure to bring value to clients
In modernizing our IT infrastructure, we invested money to save money while better equipping our people. From there, we developed systems and tools that provide value to ERM and our clients. For example, we can now integrate and analyze data from several different ERM systems in order to get better insights to how and where we are serving our global key clients.
Dashboards that tie data from human resources, customer relationship management, project accounting and safety provide account directors a comprehensive view of their client's projects – they can instantly see who is working where, the current cost of ERM's services on the project, and how our safety management system is being used on those portfolios. These efforts would not have been possible had we not invested in our digital infrastructure, based on Microsoft's Azure technology stack.
Our own market-leading Information Solutions team has a long track record of taking clients through a journey similar to our own to modernize and improve their EHS and sustainability systems and performance. As the ecosystem of software products evolve and move to the cloud, we have seen a resurgence in our systems work. Additionally, we have expanded our domain expertise to cover systems that address occupational health and industrial hygiene and electronic permit-to-work systems that have emerged.