Sustainability means better insights
Companies acquire and manage significant amounts of detailed data, but this information is often stored in different server locations, software systems, directories, files and format types. As a result, extracting full business value from environmental, safety and social data collection efforts seldom happens. ERM has moved aggressively to help clients utilize big data to drive operational performance.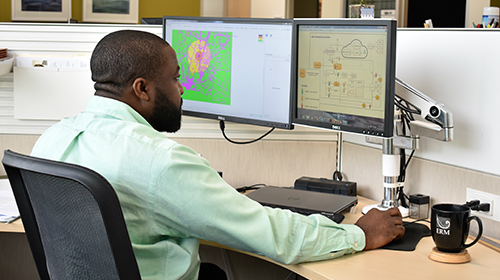 We are developing tools that help provide businesses with a competitive edge through innovative approaches in addressing sustainability challenges.
Technology to engage stakeholders
For businesses, digitization transforms customer expectations, product development, collaboration and organizational structures. In the public sector, it can change how citizens engage with government departments and political leaders. This represents a significant opportunity for organizations to achieve better business outcomes, from how they engage with key stakeholders to how they optimize their operations.
Helping technology companies manage their sustainability performance
The technology, media and telecommunications (TMT) industries face specific EHS and social challenges when entering new markets, taking on new capital projects, seeking to improve their environmental and safety performance or retiring assets. The TMT sector is worth almost $10 trillion globally. Their impact influences and shapes much of society today. ERM works with TMT companies to create business value through operational and energy cost savings, efficiency improvements, risk reduction and compliance assurance.
Among the services we provide our TMT clients, ERM assists with infrastructure and operational site selection and permitting, including cultural and land resources. We provide data management and information solutions for environmental and safety management systems. We improve management of environmental safety and social issues for data centers, supply chains and reverse supply chains. We help clients identify and comply with product stewardship regulations and registrations to support product launches. To keep up with the constant retooling of infrastructure, we help TMT companies with asset retirement and redevelopment.
Leveraging technology in the delivery of services to our clients
ERM's research and insights from work with our clients demonstrate that EHS and sustainability functions are typically behind other parts of their organizations in leveraging technology and digitization to enhance their business.
The role of technology continues to grow in ERM's approach to serving our clients. We are developing tools to improve collaboration, analytics and modeling and to simplify the collection and management of data in the field while providing clients with real-time visibility, dynamic reporting and insights into data.
ERM's own journey in embracing data and technology
ERM recognized that our business model, like other business models on the planet, was being disrupted by the digital world around us. We committed to address it and engaged external advice, entering into a partnership with the digital advisory arm of Infosys, an India-based information technology (IT) market leader.
We created a vison for what it would look like to be the digital leader in our industry, and built a roadmap of what needed to change. As part of ERM's strategy, we appointed a Head of New Digital Business, responsible for creating, developing and implementing new ways of working with our clients.
Utilizing our own infrastructure to bring value to clients
In modernizing our IT infrastructure, we invested money to save money while better equipping our people. From there, we developed systems and tools that provide value to ERM and our clients. For example, we can now integrate and analyze data from several different ERM systems in order to get better insights to how and where we are serving our global key clients.
Dashboards that tie data from human resources, customer relationship management, project accounting and safety provide account directors a comprehensive view of their client's projects – they can instantly see who is working where, the current cost of ERM's services on the project, and how our safety management system is being used on those portfolios. These efforts would not have been possible had we not invested in our digital infrastructure, based on Microsoft's Azure technology stack.
Our own market-leading Information Solutions team has a long track record of taking clients through a journey similar to our own to modernize and improve their EHS and sustainability systems and performance. As the ecosystem of software products evolve and move to the cloud, we have seen a resurgence in our systems work. Additionally, we have expanded our domain expertise to cover systems that address occupational health and industrial hygiene and electronic permit-to-work systems that have emerged.