Sustainability means better development
Forward-thinking companies are considering the future impacts – both negative and positive – of population growth. They are developing adaptation strategies and designing new products, projects and services that will help the world better cope with a larger and older population with different needs and consumption patterns.
ERM provides organizations with the technical expertise and business acumen to help manage impacts on people and the planet by:
Facilitating new market entry through permitting assistance, project financing and meeting environmental and social standards and expectations;
Helping clients develop resilient infrastructure more safely, efficiently and cost-effectively;
Unlocking business value by improving EHS and social performance while reducing operational risk; and
Achieving site closure in a cost-effective manner that is appropriately protective of human health and the environment, and at the same time return sites to productive use wherever possible.
Population growth is a potential opportunity for our clients to challenge traditional approaches to sourcing raw materials, consuming natural resources, manufacturing products and operating key sites.
Building an infrastructure for the future
ERM helps clients keep major capital projects on schedule, on budget and on scope by providing EHS and social insights and expertise throughout the project life cycle, from planning and design to implementation and ongoing management. We work hand-in-hand as part of a cohesive unit with our clients' development and construction teams, engineering, procurement and other parties to provide a unique focus on sustainability-related issues that are often underestimated. ERM brings business value to infrastructure projects by helping clients avoid delays, gain faster approvals, protect the project's net present value and improve their license to operate through effective stakeholder engagement.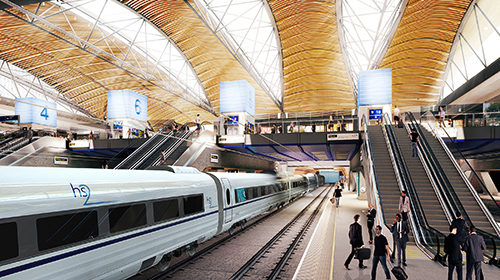 Case Study
ERM builds on successful client delivery for High Speed Two
After more than 6 years playing a leading role in the development of the United Kingdom's new high-speed rail network (referred to as High Speed Two or HS2), ERM has been awarded another significant contract on the project.
We are part of a world-class team, including Arup and Grimshaw Architects, taking forward the design of the scheme's flagship London station at Euston. This forms a major component of the build-out phase of the project, and ERM will be providing expertise and analysis relating to environmental compliance, consents and sustainability over a range of technical disciplines during the coming years.
HS2 will be the backbone of the national rail network connecting 8 of the UK's 10 largest cities. The project will be built in three phases: Phase 1 runs from London to the West Midlands and is planned to open in 2026; Phase 2a will extend the high speed line to Crewe and is planned to open in 2027; and Phase 2b will complete the network by 2033, linking the West Midlands to Leeds in the North East and Manchester in the North West. The total network will be around 553 km (344 miles) of track, and trains will operate at speeds of up to 360 km/h (225 mph).
The new contract builds on what is now a large portfolio of work for ERM on the HS2 project, comprising environmental impact assessment work, expert inputs during the authorization stages and advice to one of the Civils Contractors for construction.
We work with clients across industry sectors, particularly on complex and often high-profile projects that require ERM's unique and proven combination of business outcome orientation, technical depth and ability to understand the broader social context.
Social and environmental expertise for projects from concept to closure
In every sector, our clients' activities affect and interest landholders, employees, shareholders, nearby residents and businesses, governmental authorities, nongovernmental and community-based organizations, the media and the public. Companies strive to build strong, authentic relationships with their stakeholders based on mutual respect and trust, proactive engagement, transparent decision-making, and an equitable distribution of impacts and benefits.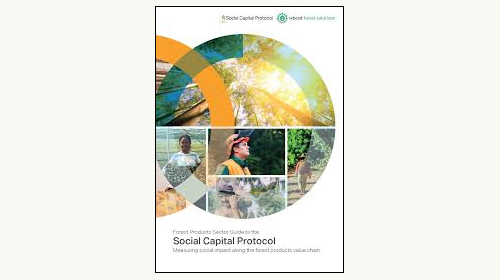 Case Study
Social and Human Capital Protocol helps companies improve performance
The Social and Human Capital Coalition is a global multi-stakeholder collaboration that brings together leading initiatives and organizations to help companies recognize, measure and value the importance of people and communities. Mike Wallace, a Partner from ERM's newly acquired firm BrownFlynn, serves as Interim Executive Director of the Social & Human Capital Coalition.
The Social and Human Capital Protocol is a key resource of the coalition. It helps facilitate the mainstreaming of measurement and valuation of people and communities, shifting the improvement of social and human capital performance from an optional extra to a core part of business decision-making. The first version of the protocol is the result of 2 years of collaborative development involving input from over 50 companies, including ERM.
This first sector guide to the Social and Human Capital Protocol supports sustainability practitioners from companies in the forest value chain in measuring and valuing their social impacts and dependencies. The Forest Products Sector Guide includes a case study showcasing the work ERM was involved in for Mondi in South Africa. The case study is featured as well in Mondi's Sustainable Development Report. Mondi is an integrated packaging and paper Group with 109 operations in more than 30 countries in Europe, Russia, North America and South Africa.
From planning a new project to retiring an old asset, companies engage ERM to provide expertise and innovative technology to help manage impacts successfully. We focus on identifying and reducing risks throughout a project's life cycle, which in turn benefits our clients, local communities and the environment.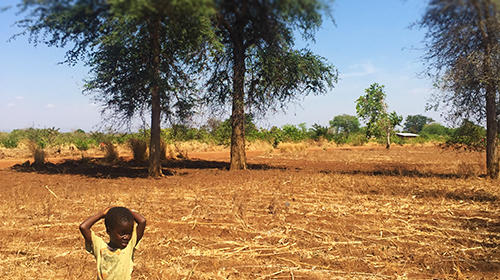 Case Study
Auditing the sustainability impacts of a planned solar project in Malawi
ERM undertook a land acquisition and compensation audit for a planned solar project in Salima District, Malawi, for JCM Matswani Solar Corp Limited (ProjectCo).
As a result of the audit and as part of the company's corporate social responsibility policy required by lenders, ERM subsequently undertook a feasibility study for community investment options in the areas of rural electrification, agriculture, and water and sanitation, with a focus on gender. ERM is also currently undertaking an Environmental and Social Impact Assessment and Livelihood Restoration Plan for the planned project.
ProjectCo is a Malawian company owned and managed by JCM Power, InfraCo Africa and Matswani Capital. This photo represents the arid nature of the area that is experiencing longer dry seasons, which negatively impact agricultural productivity.
Companies are under pressure to simultaneously cut costs, improve their EHS and social performance, and reduce operational risks. New regulations are not just another compliance requirement that staff should manage, but can lead to significant operational challenges and opportunities for creating business value.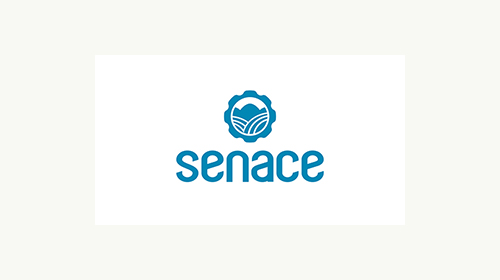 Case Study
Comparative analysis of environmental impact studies in eight countries
In order to strengthen the environmental licensing processes in Peru, Peru's Environmental Licensing Agency (SENACE) engaged ERM to develop a benchmarking study of relevant aspects of the Environmental Impact Studies in different countries.
The objective was to carry out a comparative analysis of the planning, elaboration and evaluation process of the detailed environmental impact studies for the mining and energy sectors in eight countries: Peru, Chile, Colombia, Mexico, England, Canada (British Columbia), Spain and South Africa. The report provided comparative data for the eight countries based on regulations from each province, city and region where mining and energy activities are developed, as well as EIA experts from each country analyzed.
Returning contaminated sites to productive use
Companies with environmentally contaminated sites face significant regulatory, financial and reputational risks. Successfully and cost-effectively managing large sites across multiple jurisdictions challenges even well-run companies. Whether it involves long-term monitoring, active remediation or working towards closure, the cleanup and management of contaminated sites is complex and costly.
To safeguard compliance and asset value, organizations need to take a proactive approach to contaminated sites that enables them to safely eliminate, reduce or transfer associated liabilities while also communicating progress with their stakeholders and ultimately return land to productive use.
ERM is a leader in helping global companies address their most challenging contaminated sites throughout the entire remediation life cycle. For over 40 years, we have supported leading companies across the globe develop pragmatic and sustainable remediation strategies and execute them cost effectively. We focus on end-use, working closely with clients and developers to tailor remedial strategies to suit the potential transfer and future use of their sites or to develop productive reuse strategies.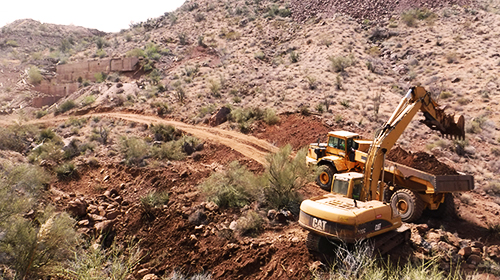 Case Study
ERM helps Teck win 2017 US Bureau of Land Management environmental award
The Hardrock Mineral Environmental Award was presented to Teck American Incorporated for remediation work performed on the McCracken Mine project, a former-silver mine located in Arizona.
Teck did not operate the mine, but owns property in the McCracken Peak area of Mohave County. ERM played a significant role and was responsible for the cultural resources and biological surveys prior to the clean-up, preparation of design documentation for remediation contractors bidding, and construction oversight. The successful remediation project resulted in the removal of approximately 20,000 cubic yards of mine tailings located on public lands in a sensitive and fragile desert landscape.
The McCracken Mine closure project preserved wildlife habitat and plant communities critical to the regional ecosystem, while also restoring a public use area to near pre-mining conditions. All of those involved shared a mutual enthusiasm for, and commitment to, responsible and sustainable mineral development, which was essential to the success of this mine clean-up project.
Responsible resettlement and livelihood restoration for major projects
As the population grows and evolves, the demand for energy and resources continues. In response, companies are embarking on major projects, which have increased in complexity as regulations become more stringent, investors more proactive and communities more engaged.
ERM's social and public affairs experts work alongside our environmental and technical risk experts and our clients' internal staff to develop integrated solutions to complex, multi-dimensional challenges that fit the specific needs of the company. We offer a comprehensive range of services and practical support including social impact assessment, resettlement and livelihood restoration, social investment planning and development of local benefit sharing packages.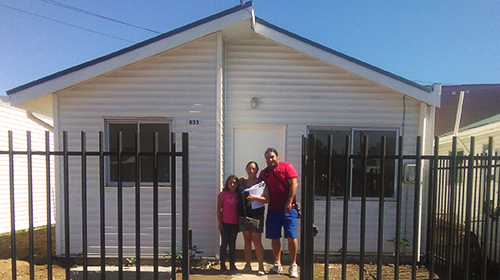 Case study
Enel community relations and resettlement in Chile
In June 2017, the electricity generation company, Enel Generación Chile, engaged ERM in an in-depth analysis of its relationship with local community members affected by resettlement in Coronel, Chile, which was started in 2008 and involves over 1300 families.
The project team studied gaps between the resettlement process and applicable international standards. This study led to several actions focused on the resolution of various historical issues and conflicts, including:
Reparation of defective housing provided during the initial resettlement via the development of a technical work group comprised of company, community and CITEC (Bio Bio University) focused on the diagnosis of the necessary repairs to houses.


Identification of the impacts to the quality of life of the families that lived since 2010 in houses with construction defects and quantification of relative compensation.


Replacement of communal property that the families had in their place of origin, including the reconstruction of the historic school and the churches in the new neighborhoods.


Implementation of a program for restoration of livelihood through the development of the "My neighborhood, our neighborhood" program that foresees the realization of requalification projects for new and existing neighborhoods in the area near the plant.
ERM helped create the necessary conditions to reengage the community in a meaningful manner and resolve long-standing issues, and in doing so, has contributed to reinvigorate Enel´s social license to operate.
International standards and industry best practices underscore a key principle: households whose livelihoods are directly affected by a project should enjoy the same or ideally a higher standard of living after being economically displaced as before. Livelihood restoration seeks to make measurable improvements to the income and well-being of affected households by helping them increase production, engage in higher-value economic activities or otherwise transform their livelihoods.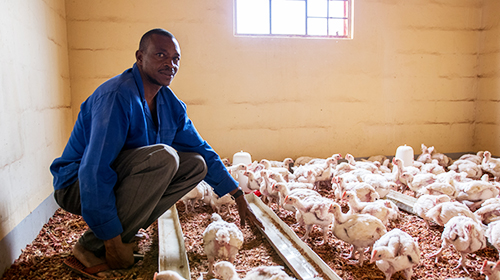 Case Study
Mitigating economic displacement through livelihood restoration in DRC
To diversify income streams and encourage investment of cash compensation entitlements in sustainable livelihood strategies, ERM developed a small business support initiative for displaced households at the Tenke-Fungurume Mine in Democratic Republic of Congo.
In anticipation of compensation, 160 participating households completed a 5-day workshop, which provided basic skills on establishing and managing micro-enterprises, including basic market principles, carrying out market surveys and developing business plans.
Following the training course, trainers work closely with the participating households to finalize their individual business investment plans. Trainers will continue to provide support during a 12-month business incubation period.
Success rates have been very encouraging, with monitoring data providing strong evidence of household income diversification through productive investment of cash compensation entitlements.
ERM's methodology for livelihood restoration provides local stakeholders with the opportunity to be actively involved in the design and decision-making process, which increases the likelihood that measures will be culturally appropriate and supported over the long term.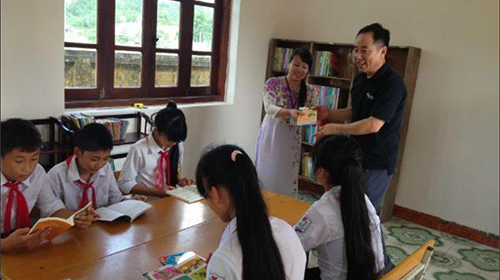 Case study
Improving community outcomes at thermal power plant in Vietnam
A thermal power client in Vietnam hired ERM to carry out a Livelihood Restoration Completion Audit (LRCA) related to the economic displacement of 68 households of farmers and fishers impacted by the construction of a pond used to store ash waste from the coal-fired facility. ERM conducted the original socioeconomic baseline study in 2013 and prepared an initial Livelihood Restoration Plan (LRP) in early 2014, which then underwent a process of consultation with local authorities, potential education and training agents and the affected households. The LRP was designed to take into account local economic activities and labor demands and to be integrated with both the client's own community development plans and programs run by local authorities.
Part of the LRP promoted existing land-based livelihoods through access to local market and procurement networks, enhanced animal breeding and the formation of farming and fishing cooperatives. Other elements focused on skills training and local enterprise development. Through collaboration with a local vocational center, a final component targeted young people, especially girls; children of affected households headed by women; and other vulnerable groups.
Once the LRP was complete, the client commissioned ERM to conduct a closeout audit. To avoid any conflicts of interests, ERM used a separate team to review monitoring and internal audit reports, records of consultations and meetings, and grievances related to livelihood restoration and how they were resolved. Affected households and local authorities were also interviewed. Significantly, the team observed an improvement in average monthly incomes among affected households, attributed to the successful implementation of the LRP.