Our commitment
Our ability to attract, develop, reward and retain talented employees is central to our business strategy and vital to our future. We want to hire passionate people and ensure that we nurture and support their development and success.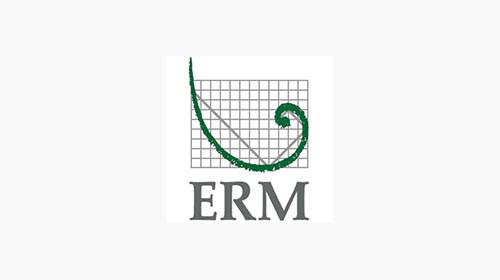 Highlight
ERM Company Values
We are engaging and raising awareness with our people while adapting our processes to ensure a more inclusive approach. This approach builds on what we are doing to nurture the best talent and, importantly, reinforce our company values:
Accountability: We are each personally accountable and jointly responsible for the success of ERM and for the delivery of quality work to our clients.
Caring for our people: We are looking after our people, their safety, well-being and development. We also treat each other with respect.
Client focus: We value entrepreneurial, innovative and client-orientated behavior.
Collaboration: We are one organization globally: we believe in the principles of partnership, respect for each and every individual and mutual support across the world.
Empowerment: We will help all our people to realize their potential.
Transparency: We expect the highest level of ethical behavior and personal integrity in all our transactions in accordance with our ERM Code of Business Conduct and Ethics.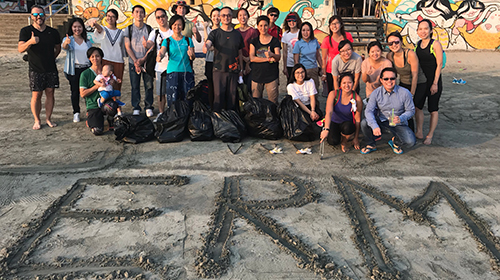 We ended the year with 4,500 full-time equivalent (FTE) employees, which was an increase from 4,300 FTE employees at the end of fiscal year 2017 (FY17). In response to market conditions and current employment preferences, our staffing strategy has evolved to provide opportunities for flexible working arrangements in response to client needs in addition to full-time employees. ERM's year-on-year voluntary turnover decreased from 11.8 percent to 11 percent in FY18, which is notably better than our industry's average.
Read more on our workforce in the supporting data section
Work-life balance
Our business sometimes demands long hours, frequent or extended travel, and deadline pressures. Within this context, ERM strives to maintain an appropriate work-life balance for its employees.
We provide flexible working arrangements where feasible, enabled by technology, and we will continue to ensure we are meeting the needs of our employees in the years ahead.
We encourage wellness activities, and many of our offices implement initiatives, such as gym memberships, team sports, recognition of special family days and fresh fruit supplies.
Flexibility is often cited by employees as a key reason for working at ERM.
Diversity and inclusion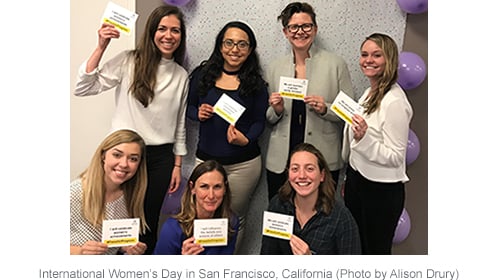 At ERM, we know that creating a diverse and inclusive work environment is an essential part of making our company a great place to build a career. Our aim is to foster a culture of inclusiveness free from bias and discrimination. We confirmed our commitment to this over 10 years ago in the first global company policy on diversity, which we updated in 2018, and we have since taken steps through targets and initiatives to make sure we deliver on our commitments. Through our policies, we prohibit discrimination on the basis of race, color, religion, sex, sexual orientation, gender identity, age, national origin, disability, veteran status or any other category protected by the laws of the communities in which we do business.
As part of our commitment to the UN Global Compact, ERM is a signatory of the Women's Empowerment Principles. The ERM Foundation includes "empowering women and girls" as an area of focus for funding projects reflecting the SDGs.
Our aim is to be recognized globally by our employees and our clients as a demographically diverse employer, whose inclusive culture enables our employees to excel in the service and value they provide to our clients.
As part of setting foundations for a more deliberate approach to inclusion in the years ahead, we launched two initiatives in FY18, with further actions to follow based on these initiatives:
Enhanced training: We have embarked on employee training to help raise awareness of the business-related advantages associated with having a diverse and inclusive culture. All employees will have the opportunity to access online content. We are also in the process of developing more in-depth training for managers and the senior leaders in ERM.
Global Advisory Group: In support of our vision and purpose, we established a representative Advisory Group to guide the ERM leadership team on how to enhance ERM's performance and culture of inclusion. This includes providing feedback, coaching and insights on the issues, priorities, communications and effectiveness of ERM's approach to inclusion. Members of the inaugural Advisory Group for building an inclusive culture were selected from among the 400 employees who applied to serve a 2-year term. The Advisory Group will help ERM address the issues that matter and bring the conversation to life across the business in the three focus areas of: educating, adapting and engaging.
In June, ERM will be observing Pride 2018, which means that we are nurturing a positive work environment through respect and support of LGBT+ identities of our employees. Our goal in doing this is to create a workplace in which every employee is able to bring their best self to work, and that ERM is a place where everyone feels respected, safe and encouraged. Ultimately, this strengthens our culture and improves the outcomes we can deliver for our clients.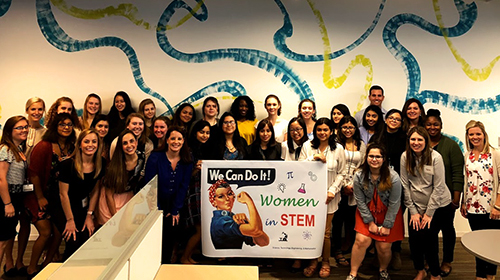 Highlight
Celebrating International Women's Day
One of the first tasks of the Advisory Group was to support ERM offices around the globe in celebrating International Women's Day. This day provided the opportunity for us to celebrate the achievements of women at ERM – approximately half our workforce – and to acknowledge that as a society, we have some more work to do to achieve gender parity. The theme of for this year was #PressforProgress.
In the spirit of International Women's Day, ERM's Houston office held a 2-day event in February 2018 with Junior Achievement that engaged approximately 80 girls, ages 14 to 16, from a local minority- and income-diverse school district. The girls spent time with our employees in the Houston, Texas, office, learning about the work we do for our clients that supports global sustainability; using technology to create word clouds and surveys regarding sustainability and women in science, technology, engineering and math (STEM); empowering women to think about STEM careers; and supporting our ERM Foundation initiative partnering with Junior Achievement. The girls took an office tour, had informal discussions with our ERM employees about what they were working on, and enjoyed the office café with games to support team bonding and a fun work environment.

Gender balance in management
Over the last few years, there has been a companywide effort to increase the number of women in leadership positions. Increasing gender diversity among our Partners and Senior Consultants is a long-standing KPI for the company. For FY19, we have added a new target focused on increasing the diversity of our global Senior Leadership team.
We have also focused on increasing the number of women in our talent pipeline through our Aspire Program and Path to Partnership approach. These programs are critical to the development of future leaders within ERM, and greater gender diversity among their participants is a crucial component in achieving our diversity goals. In FY18, 43 percent of the Aspire Program participants and 47 percent of the Partner candidates were women.
Highlight
ERM publishes UK Gender Pay Gap Report
In complying with legislation introduced in the United Kingdom, ERM published in March 2017 a Gender Pay Gap Report on our UK-based business.
All employers in the United Kingdom with more than 250 relevant employees are required to publish details of the gender gap related to pay. The regulations measure the difference between men's and women's average earnings across an organization, irrespective of their role, skills or seniority, and is expressed as a percentage of men's earnings. Visit the full report on erm.com for more details of the scope and findings.
Learning and development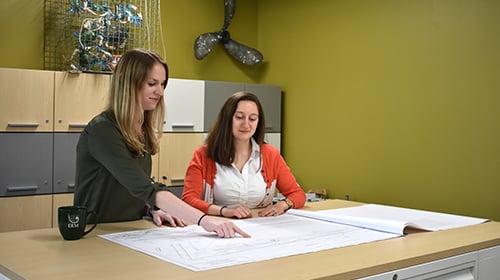 We invest in the future of our people through a focus on learning and development. ERM provides opportunities for ongoing learning across technical, business and personal development subject areas.
We offer a mix of classroom, digital, on-the-job and informal educational approaches – with technical experts contributing to specialist curricula.
The ERM Academy, our online portal, is the repository that holds all learning items, events, sessions and training records for our workforce. It is aligned with our career framework at each level. Employees can enhance the skills, knowledge and behaviors they need to adapt to a changing market and advance their career with ERM.
We aim to nurture a culture where learning occurs every day in everything we do, and where each of us takes ownership in driving our own development. On-the-job learning accounts for a significant percentage of an individual's development. The ERM Academy includes new content and programs to align with our strategy and grow our strategic capability while responding to the changing needs of the learner.
Every new employee completes mandatory training and local induction activities so that they can carry out their work safely and in compliance with ERM governance requirements and policies, our clients and relevant legislation.
Leadership pipeline
Partner-led teams collaborate to deploy the right people for the right job. These teams have access to our entire ERM workforce, spanning different geographies and sectors in order to meet our evolving client needs. This structure also enables ERM employees to deepen their professional experience by supporting projects worldwide.
We continue to evolve our approach to our leadership pipeline. We are implementing a new Path to Partnership approach focusing on our talent reviews to identify those individuals who have the potential to be successful Partners at ERM. Once identified, we will assign them a sponsor from among our Senior Partners to help them prepare and develop into the requirements of our Partner roles. With our new approach, we are reinforcing the need for our Senior Partners to be the stewards of our Partnership and take on the accountability, along with our candidates, to support them successfully to promotion.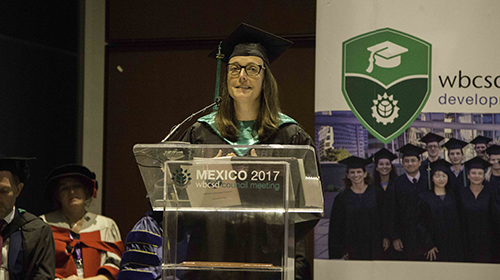 Case study
New partner Jami Patrick participates in WBCSD Leadership Program
Jami Patrick is a newly promoted Partner at ERM, specializing in supporting clients in environmental, health, and safety risk management and compliance assurance and serves as a Regional Sustainability Co-Lead for North America.
She currently works in our Nashville, Tennessee, office in the United States, but has also worked for ERM in Abu Dhabi, United Arab Emirates, and Manchester, England. Jami participated in WBCSD's Leadership Program in 2017. The focus for the year was on "integrating sustainability in business decision-making." Our involvement in the Leadership Program helps our talented leaders gain skills, experience and knowledge. Alumni join a global network of business leaders who are ambassadors for sustainable development both within their companies and outside in broader society.
At the annual New Partner Integration workshop held in October 2017, we included a session that explored the ways ERM contributes to the SDGs through our own operations, by working with clients, and through the ERM Foundation. The new partners participated in breakout groups, where they discussed these issues in the context of ERM's strategy and purpose statement, "Shaping a sustainable future with the world's leading organizations." The workshop is part of a comprehensive program to support new partners as they transition into the Partnership and accelerate their effectiveness in their new role.
ERM's Aspire Program helps high-potential Senior Consultants accelerate their development and mature in their role, which supports our management succession planning. In FY18, several Aspire teams contributed to our new strategy implementation, focusing on projects such as:
Challenges and opportunities of the food and beverage sector;
ERM Vision and Values: how we measure impact; and
Clients and megatrends: the impact on client business strategies over the longer term.
Several other Aspire teams focused on SDG-related projects.
KPI highlight

Our people
FY18 target
Show increase over prior year for gender diversity among Senior Consultants, Technical Directors and Partners.
Develop baseline of languages spoken and number of nationalities represented by employees.
Result
21.4% female Partners (increase from 20.1% in FY17).
34.4% female Senior Consultants and Technical Directors (increase from 34.0% in FY17).
ERM employees speak 65 different languages, which reflects the diversity of our workforce and helps us to better serve the needs of our clients.