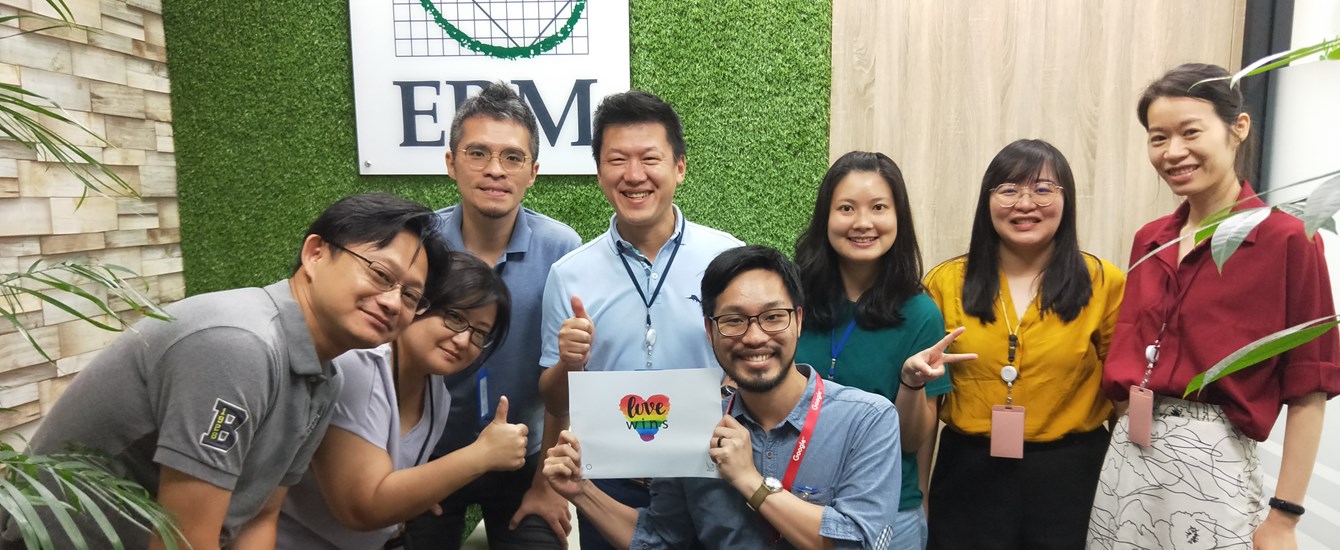 Photo credit: Lawrence How, Taiwan
This past year has been a watershed for diversity, equity, equality and inclusion (DE&I) in the wider world.
Expectations from clients, employees and other stakeholders shifted significantly in the face of racial, ethnic and LGBTQ+ conflicts and inequalities, exacerbated by the stresses associated with the global pandemic. While we had been addressing this area for some time, we recognized and responded to the increased expectations of our stakeholders, particularly our own employees. We have taken a progressive approach to build a diverse company that reflects the communities in which we live and work, as well as a vibrant, inclusive culture in which our people can thrive and that enables the delivery of exceptional client value.
Our FY21 targets and goal emphasize the importance of diversity and inclusion as part of our material topic – our people. This year, we changed our human resource system to enable employees who choose to do so to share more of their diversity data voluntarily (e.g., gender identity, age, nationality, marital status, race/ethnicity, sexual orientation, disability, military service, etc.). We do not yet have the extensive data regarding many of the important areas that would allow us to understand more fully the diversity of our employees. Therefore, it is difficult for us to know if we are being as inclusive as possible and to identify the actions needed to make improvements in different parts of our business. We also have to navigate the privacy of data collection and disclosure in different parts of the world and are actively looking at how we balance the need for data with our legal and ethical obligations in different jurisdictions.
Following a baseline assessment in 2019 using the Global Diversity and Inclusion Benchmarks (GDIB), developed by the Centre for Global Inclusion, we executed a comprehensive DE&I action plan at the global level to address gaps in maturity and performance. Each business unit also developed a plan to focus on DE&I in a new way. ERM is among the sponsors of the updated version of the benchmarks (Global Diversity, Equity & Inclusion Benchmarks or GDEIB), which were released in April 2021.

At the end of FY21, we measured our progress against the GDIB model once again. Overall, we achieved 32 new benchmarks since the 2019 assessment, moving up in 50% of the categories and thereby achieved our FY21 goal of increasing our score in 40% of the categories. We are performing at the progressive level in 8 categories. Based on the results of the FY21 assessment, our plans for FY22 focus on the following:
Continue to expand our understanding of DE&I in all its forms;
Build inclusive leaders;
Purposefully increase representation and participation of under-represented groups;
Drive equality and inclusion across the employee lifecycle; and
Engage authentically on DE&I on an external level.
Alongside the action plan we executed, we continued to develop an operational plan to drive DE&I further into the business. This will help embed accountability and ownership within ERM's operations. Given this new regional approach, we are restructuring our global advisory group to ensure we respect the different regional perspectives we have now enabled through the DE&I leads and the Employee Resource Groups (ERGs). Key outcomes from FY21 included:
Introduced DE&I metrics in balanced scorecards for Business Unit Managing Partners, elevating its importance by tying DE&I to salary & bonus considerations.
Provided support to employees – especially needed given the pandemic and mandatory working from home – through Employee Resource Groups, including two new groups: embRACE and Working Parents and Caregivers.
Employees expressed strong levels of agreement around the ability to be oneself at ERM and have a sense of belonging, according to our employee survey.
Our FY22 sustainability targets include: Increase performance in four categories of the GDEIB from FY21.
I am so proud of the progress we made to raise our awareness and ensure every person at ERM has an equitable and inclusive platform to perform as we strive to develop a diversity-rich employee base."
Tim Strawn
CEO Europe, Middle East & Africa, ERM