Impact through collaboration
Contributing to the Sustainable Development Goals
The United Nations adopted the Sustainable Development Goals (SDGs) in September 2015. These 17 goals are designed to end poverty, fight inequality and injustice, and tackle climate change by 2030. They reside within the key document, Transforming our World: The 2030 Agenda for Sustainable Development. Reaching these goals will take everyone's contribution, including government, civil society and business.
ERM has been involved with the SDGs since the start of their development in 2012. We contribute to the SDGs in three ways: through our work for clients, in our operations and through collaborations, including the ERM Foundation.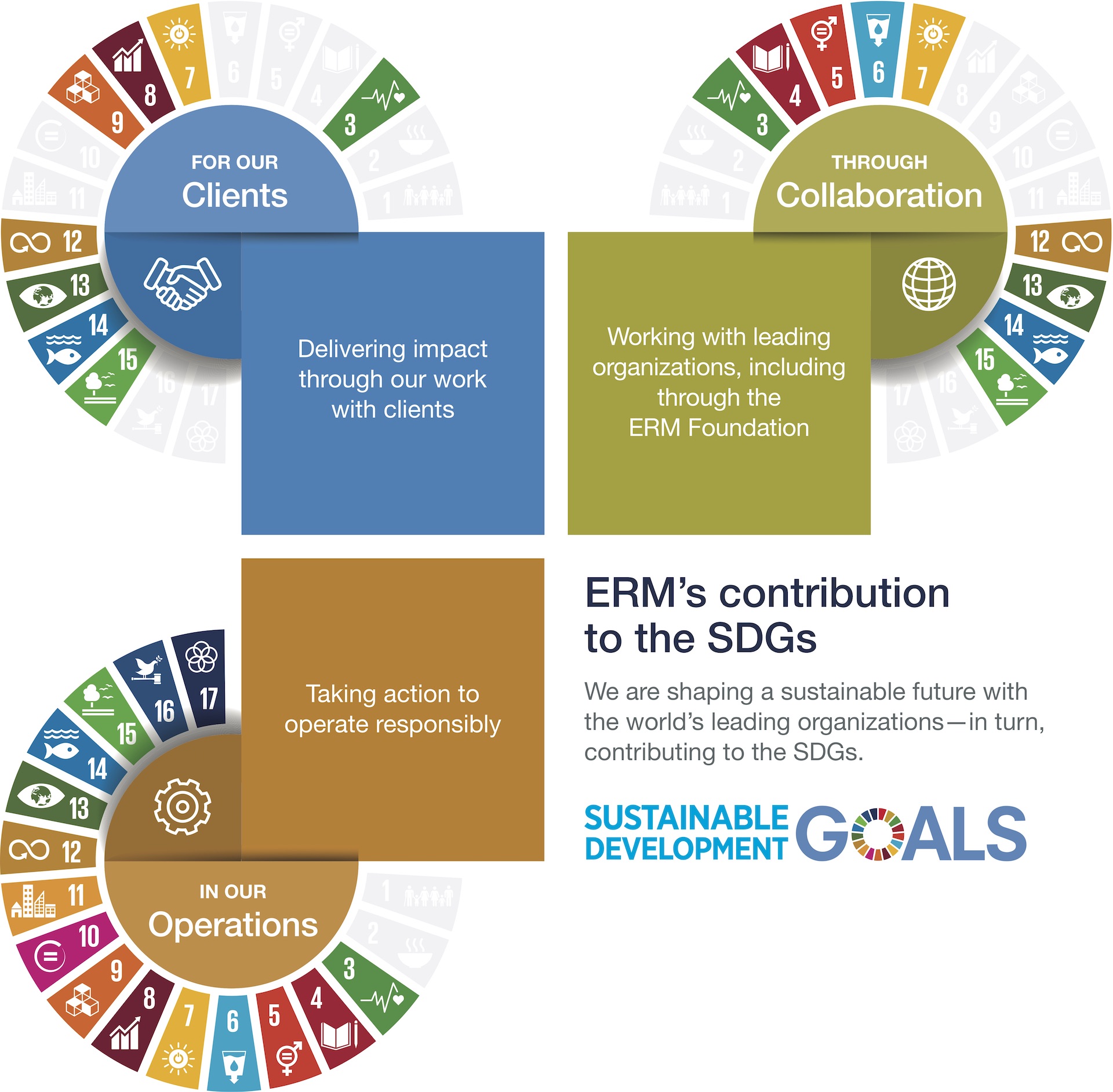 ERM strives to operate in a sustainable manner that supports the SDGs. We have adopted several policies and programs that directly contribute to the goals, as do our sustainability targets and goals.
Of particular note, we have adopted ambitious science-based targets, which have been validated to be in line with the level of decarbonization required to keep global temperature increase well below 2 degrees Celsius compared to pre-industrial levels.
ERM participates in SDG panels at leading conferences and convened SDG workshops and webinars with companies across geographies and sectors sharing our own experiences of contributing to the SDGs.
Learn more in the Impact from operations section of our report.
We are working with our clients and leading organizations – with the SDGs as a framework – to address sustainable development. How do we do this? By helping clients to:
Identify how the SDGs can contribute to or enhance their company or investment strategy;
Support the identification of material issues – then setting priorities and targets with a view to identify future challenges and opportunities;
"Operationalize sustainability," and determine how to reach goals and targets through programs, practical action and capability building; and
Report, disclose and assure performance to stakeholders.
See the Impact with clients section to learn more.
Through the ERM Foundation's projects, employees can lend practical and technical support to many nonprofit organizations and social enterprises that otherwise would not benefit from the breadth of ERM's expertise.
The ERM Foundation is committed to making a measurable contribution to the SDGs. These Global Goals provide a framework for us to measure and report on the contributions we are making to the global sustainable development agenda. We have prioritized nine intersecting SDGs that align with our focus areas.
For more information, read the ERM Foundation Annual Review 2020.